Minneapolis Wedding
From the perfect proposal to the hottest honeymoon, W provides a dazzling backdrop for a Minneapolis wedding that reflects who you are as a couple. Count on us to make your big day dreams a reality.
WEDDING PACKAGES INCLUDE:
Complimentary Fantastic Suite for the Bride and the Groom the night of your Wedding Reception
Complimentary Bridal Room located by Ceremony/Reception Room
Complimentary Groom Room located by Ceremony/Reception Room
Complimentary Cake Cutting
Complimentary Champagne Toast for about to be Married Couple and Guests
Infinity Candle Holders with Votives
Tables, Chairs, China/Glass/Silverware, Napkins
Complimentary Dance Floor
Complimentary Parking for the Bride and the Groom the night of your Wedding Reception
Discounted Sleeping Rooms Rate (10+ rooms)
Professional On-Site Event Planner from the time you meet until your Wedding Night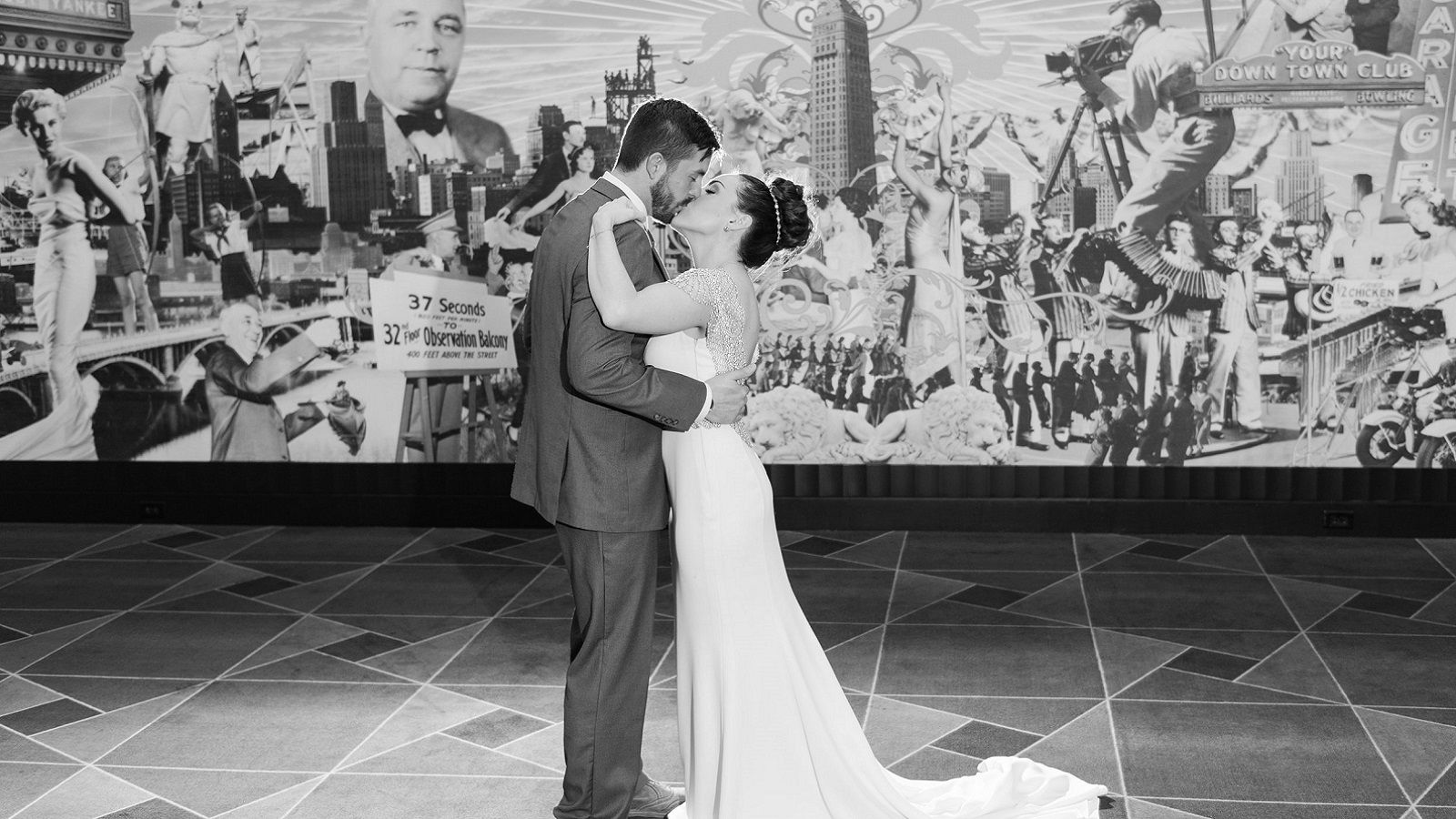 HIGHLIGHTS
Enjoy special accommodations and hotel space for your memorable day:
Greatroom Capacity: 200 guests for sit down dinner
340 guests for Reception Style
360 degree view of downtown from 30th floor Observation Deck
W MINNEAPOLIS WEDDING VENUES
Leave the planning up to us as you discover our historic downtown paradise in the heart of Minneapolis. On the big day, allow us to put your unique spin on the classic ceremony, complemented by our striking backdrops and views of the Twin Cities. Whether it's your first walk down the aisle or you're renewing your vows with flair, our luxury weddings are truly distinct. But it doesn't stop there.

W features intimate venues for weddings and parties of all sizes.
HEAR IT FROM OUR GUESTS
"Jodi Bahr was a JOY to work with. She kept me focused and told me what I need to know for each step along way. She was incredibly professional and fun to chat with. Whatever you pay her, it is not enough! She is fantastic!!"
– Jessiac B. & Charlie P. wedding

"Dear Jodi, Thank you for everything you did in helping us plan and execute our wedding! It was truly an honor to work with someone as helpful, professional, organized and courteous as yourself. We have gotten nothing but compliments about the reception and accommodations. We could not have done it without you! All the best in the future.
-Luca & Lisa S. P.S. We will definitely be back to W for our 1 year anniversary!"

"Jodi, You and your team did an absolutely outstanding job. All of our guests were so complimentary of the venue AND the service. Any questions or issues were addressed quickly and respectfully. I will recommend the W to all my friends. Again, thank you for a truly outstanding wedding reception! Best wishes,"
-Jeff

"Thank you so much for everything, the wedding was everything we could have imagined. And of course the honeymoon was great :) We went to London and Paris for 10 days! It was great to kind of disconnect from the real world but it is also very nice to be back :)"
-Julie T.

"My wife and I got married at the W Minneapolis in June 2015 and had a fantastic experience! The setup was perfect for our guests; the spaces for the reception and cocktail hour are well integrated with the rest of the hotel. Our wedding was about 160 people, which was perfectly sized for the space. In the reception hall specifically, there is a lot of natural light that comes through the windows and a great natural focal point with the mural wall at one end.

The food was also one of the top highlights of our wedding reception. All the menu options are cooked in the same kitchen as Manny's steakhouse (one of the best in the city), and the quality does not disappoint. I cannot recommend the filet with whipped horseradish potatoes enough. Truly delicious.

To make our wedding as convenient as possible, we also set up a room block with the W. Many of our guests chose to stay there and thought the accommodations were very comfortable and a good value, especially considering other events around the city that weekend were driving up room rates. The hotel also did a great job with our suite for the night of the wedding, even going as far to have chocolate covered strawberries and a few bottles of champagne waiting for us after the reception.

However, the single best part of working with the W for our reception was working with Jodi Bahr and the hotel staff. They went out of their way to help us make the wedding day truly special. I was especially impressed with how easy they were to work with, especially as changes to our reception plan were happening all the way up to the night before the wedding. Jodi is a true professional that really understood the type of wedding we were looking to have. She was also great about responding to emails in a timely fashion and able to jump on the phone for a few minutes as needed.

You are in great hands with Jodi and the W Minneapolis! It is too bad you only get married once, because they were THAT GREAT to work with."
-Lucca S.

"Thanks again for all you and your staff did to make Julie's and Andrew 's wedding such a great party. For weeks we received cards and messages from attendees how what a great time and about the venue. Thank You"
-Teddy, Father of the Bride

"I actually proposed to my (now) wife at the W Hotel Minneapolis Foshay last year. When it came time to select a wedding venue, we visited at least 10 different potential venues. The last location we visited was the W Hotel Minneapolis. After just 5 minutes, it was immediately clear that we wanted to host our wedding there! Not only does the space hold a lot of personal meaning to us, but it's also an AMAZING, world class event space with an unusually ultra-modern throwback aesthetic."
-Jeff F.

"The W was a wonderful choice for our wedding! After reviewing and visiting countless venues for our wedding, my wife and I selected the W. We couldn't be happier with our decision. The experience of working with Jodi and the entire team at the W was outstanding! Jodi went above and beyond the call of duty from day one to make sure that we understood all of our options and felt comfortable with the process. Through multiple in-person tours of the facility and many e-mails, Jodi tackled any and all questions with friendliness and speed. We always felt that we had an outstanding single point of contact with Jodi who has looking after us and our event. The facility and food at the W are beyond compare. There isn't better food anywhere. Period. The W doesn't include any hidden fees or room rental costs like most other places do which was a great feature for us. All told we feel we received an excellent value for a premium experience for our guests
-Julie S.

"The actual wedding reception was absolutely beautiful. The setup and food was excellent. Jodi, our wedding coordinator, was accessible on site. She made our daughter's wedding a wonderful success. The staff that worked the reception were professional and respectful of us and our guests. We also hosted a brunch the next morning for family and that was done equally as well."
-Liz B.